Commercialisation Pathway

CBSM is progressing the commercialisation pathway from the current position of Alpha prototype through to full scale pilot testing.  The Alpha GRolls™ will undertake multi-commodity trials (real-world testing) in Adelaide from many industry partners, testing a full range of mining, cement, waste, E-waste and construction materials under different unit configurations to determine performance and power envelope data.  This data is essential in comparing to the GRolls™ to existing comminution equipment and confirming the commercial viability of the technology and its potential applications across a wide range of global industries.  The data will support the design and development of upscaled GRolls units for manufacture and commercial sales based in Adelaide, South Australia.
The feed materials will be sourced from industry partners who are involved in exploring and developing critical minerals within South Australia alongside other mining and cement industry partners.
CBSM plans to design and build a pilot GRolls™ unit (Beta prototype) and has developed a concept design for a 3‑5tph GRolls™ unit. The unit will weigh over 12 tonnes and is sized to be accommodated in a 20ft container for transport and modularization for pilot plant and small scale dry and wet comminution operations enabling field trials, at site, on existing process streams.
A pilot plant for a mining or cement industry partner will be progressed to process feed material through the Beta GRolls™ unit. The constant feed source over an extended testing periods providing critical data. Depending on funding arrangements the pilot GRolls™ unit may be available for multiple trials at different sites for different potential customers for proving the technology to their mining applications. Both the lab scale and pilot scale units will validate the long-term performance, maintenance and operability of the GRolls™ units under commercial conditions and support design, manufacture and commercial sales from South Australia.
CBSM was one of five finalists in the South Australian government supported ThinkingCriticalSA challenge. Thinking Critical South Australia was a global online crowdsourcing challenge from the Government of South Australia aimed at fostering the growth and development of a world class, leading, critical minerals sector. The Government of South Australia is focused on growing the state's critical minerals sector by fostering manufacturing and processing capabilities such as proposed by CBSM for Adelaide, establishing a central, word-class hub for critical minerals, and supporting a collaborative ecosystem of innovators focused on accelerating the use of critical minerals.
The GRolls™ ability to reduce energy and water consumption and improve mineral recoveries was seen by the judges as providing huge potential for unlocking South Australian critical mineral resources in the future. The support includes a $50,000 grant for CBSM to promote our company to investors and to trailer mount our Alpha GRC unit so that it can be transported to potential client sites and research facilities for various feed materials to be tested on a small scale. The support from partners includes investor presentations at IMARC22, AusIMM articles, AustMine membership, marketing advice, featuring on invest.sa.gov.au, networking with Core Innovation Hub and opportunities to conduct research with the University of Adelaide and University of South Australia.
The GRolls™ technology is unique to the global mining and cement industry and was developed in South Australia by CBSM a South Australian company.  CBSM plans to progress the concept design of the GRolls™ through the commercialisation process and establish a global innovative manufacturing hub in South Australia for the GRolls™ technology.  Priority will be given to South Australian manufacturers and end users, followed by Australian companies.
Benefits for South Australia will come in establishing a manufacturing facility with South Australia suppliers to manufacture the GRolls™ technology for global markets, providing significant opportunities for employment in the manufacturing industry and attract future global investment. The GRolls™ technology may also be used by South Australian mining and critical mineral companies and other industries to enhance their global market competitiveness.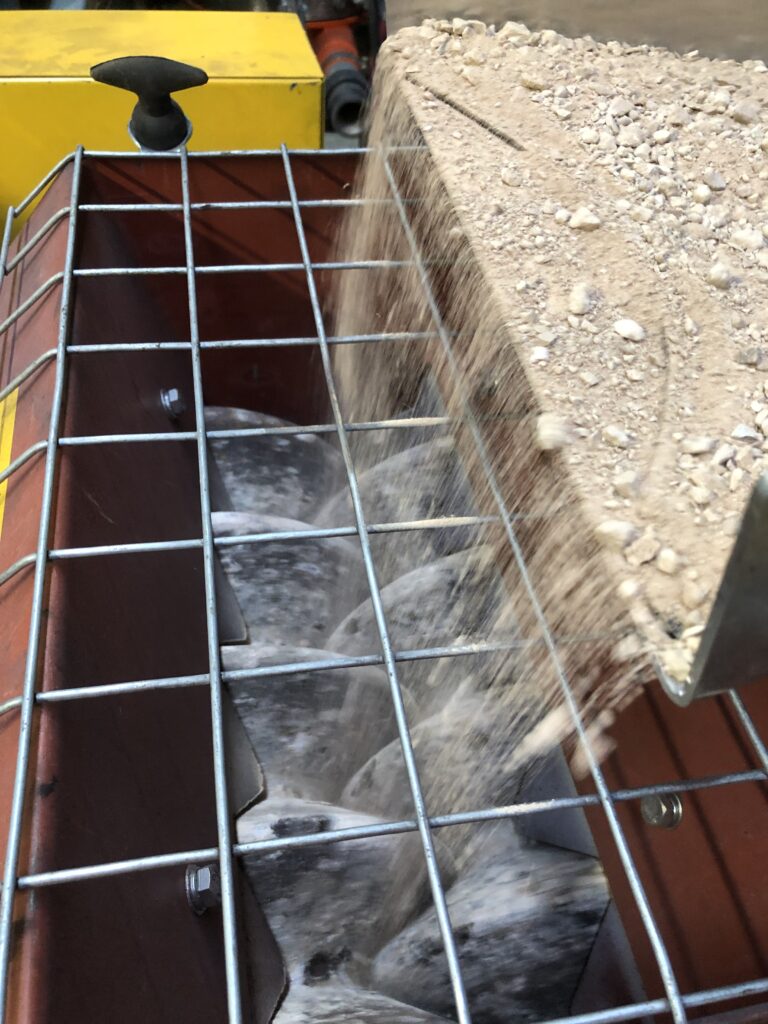 Sponsors are sought in one or more of the following markets in which we believe the GRolls™ can successfully penetrate over the next 5 years, being:
Quaternary dry comminution (transition from wet to dry processing)
Regrind (Quaternary wet comminution)
Supplementary Cementitious Materials (SCM) production
Waste recycling
Laboratory and exploration/pilot plant comminution equipment.
Sponsors will provide feed materials for testing through the GRolls™, provide research support and information on the specific markets and competitors in which they wish to operate the GRolls™. In return the sponsors will gain early access to commercial GRolls™ units at a cost that reflects their sponsorship level.
Stoney Pinch Sands (https://www.stoneypinch.com.au/) is a Sponsor of the GRolls™ technology and are seeking dry comminution solutions for their agricultural and industrial products produced from their high quality limestone and silica sand deposits in Renmark, South Australia."
The upscaling of the GRolls™ technology requires significant investment by CBSM in the design, building and operation of a pilot scale unit to prove its commercial performance. CBSM is looking for investor partners that can prove the necessary $2m capital raising through equity to ensure that CBSM becomes a $10-20M per annum company in the next 5 years.
The University of South Australia will undertake broad R&D related to GRolls™ energy consumption and post-comminution processing flowsheet consequences and benefits.  This R&D will be led by Prof William Skinner of UniSA's Future Industries Institute.  Key investigations will include, liberation benefits afforded by high compression and shear, subsequent impact on beneficiation (wet, dry), dry comminution chemistry benefits (e.g. in flotation – avoidance of inadvertent activation, improved kinetics, in hydromet – improved leach kinetics, etc.) and potential for fully dry processing of commodities (e.g. dry magnetic separation, classification).  This R&D will be pursued through existing and new engagements with mining and critical mineral partners in South Australia and will include research collaboration with the University of Adelaide.
CBSM plans to continue the technological development of the GRolls™ technology by utilising, funding and supporting research facilities and specialist engineering design services in South Australia. This research and development work will bring customers from around the world to Adelaide to assess our innovative GRolls™ technology, providing additional opportunities for engagement by the broader South Australian industries and universities with those global customers.
As part of ThinkingCriticalSA award CBSM will be presenting at the upcoming IMARC22 conference in Sydney in November.  IMARC22
Mark and Bill from CBSM have also submitted an abstract on the GRolls™ for the upcoming Comminution 23 conference in South Africa to be held in April 2023. Comminution '23 (eventsair.com)
Further events will be highlighted here.
Conferences
&
Presentations